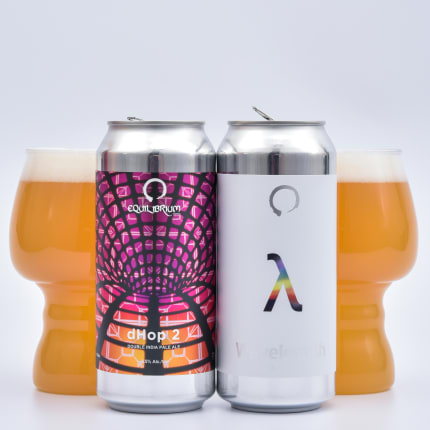 Wavelength
Equilibrium Brewery
---

Find and rate beers like this on the Tavour app!
---
A Note on This Beer
Missed the alert for Equilibrium Wavelength? Here's another shot at it before it sells out!
Any fan of the game Half Life will recognize the Lambda symbol on the can. But, this is no ode to Gordon Freeman or his science-loving, alien-shooting ways. No, no... this is real, hard beer science from the New York based brew crew led by MIT PhD, Pete Oates!
Before releasing his first brew to the public back in 2017, Pete spent years as an engineer, working to bring clean water to folks all over the world. When he finally turned his big brain and vast knowledge to brewing, magic happened, and we're reaping all the benefits!
Today's IPA from Pete and the gang comes packed with a blend of Mosaic and Citra Hops over an oat and white wheat base. Berry medley and stone fruit notes swirl together in every sessionable sip, ready for a pint glass or a beaker. Your choice!
And, New York fans sing the praises of this scientific endeavor! Shouts of "Wavelength 4 LIFE" and, "had my first can 'cause I love HL, now I'm a fan of Equilibrium!" fill the rating sites.
If you've yet to try an Equilibrium brew, this brewery-staple IPA is a great place to start.
Packaged On April 28th, 2021
---
Reviews
4.07
4.25
Easy to drink with a nice aroma
3.0
Very mild, light with a candy flavor - fruit notes, Starburst but very very mild. Average.
0.5
This beer prevented me from moving out my ship date. Not worth it at all.
4.0
yeah!
4.0
A nice fresh crisp citrus taste. A balance malt bill of 2 row, wheat and flacked oats was used to have a balanced malt flavor. I appreciate the new style IPAs because they don't over do piney for balanced bitterness.
3.5
Light and crisp, easy to drink. Pretty basic Ipad but still solid
4.0
Hazy, floral, almost berry sniffs, hoppy & crisp with sweet notes of ripe, tropical fruits, zesty, grapefruity, melony rind, and subtle balancing oatiness.
4.0
Tasty IPA, not a stand out, but very easy to drink
4.0
pretty good!
4.0
A nice clean and crisp IPA. Easy drinking.
4.0
Was a little bit let down after seeing the description and the high Untappd rating
4.5
Great! Smooth and fruity IPA
4.25
so good! very dank and hoppy! and ohhhh so delicious!
4.5
All around solid. Sweet lucious juicyness in every sip! Nice dry yet juicy onset, perfect amount of carbonation, but then the juicy fruit/melon tastes really 'boomerang' around right after you swallow your sip!!!
5.0
Very drinkable. Good flavor
4.0
not too shabby
4.5
Delicious and juicy
5.0
Oh yeah
4.25
Smooth as the day is long!
4.75
this made me believe I can drink IPAs again
4.25
amazing ipa!!
3.75
Fruity with a thin mouthfeel. Aromatic our of the can.
4.0
Very bright citrus notes. Melon, berry, and fruit juice.
4.5
So good
4.0
Real nice drinking and smooth
4.5
very smooth and tasty. goes down way too easy
4.25
EQ is always solid and this is a banger
3.75
mild but maybe too mild
2.75
Thin and not too flavorful
4.0
hops with some crisp yum!!!
---