This list of best sandwiches across the country of Tavour member states has faced me with some of the most challenging decisions I've made in probably… my whole life.
Washington: Okay, Salumi and Honey Hole fans are definitely going to fight me, but Washington is a Seafood mecca so you gotta go Oyster Roll here. And you'll find Seattle's best at Taylor Shellfish. They actually brine and inject the oysters in their Fried Oyster Po' Boy right before frying so they come out extra fat and juicy. Their baguettes have perfectly crunchy edges and soft dough centers, and they top it off with just enough tomato, pickles, and lettuce to not mask the main attraction: the oysters. It's easy to decide which beer to pair with your Oyster Po' Boy -- Taylor has a delicious Oyster Stout collab with No-Li brewhouse on their menu. Brewed with dark chocolate, cocoa, lactose for a creamy mouthfeel, and even with Taylor Totten Inlet Pacific oysters for subtle salty brine flavors, this Stout is basically liquified sea salt chocolates.
Oregon: Lardo and Bunk fanatics will be quick to plot out my murder but the best sandwich in Oregon most definitely comes from a Portland Food Cart: The FoPo Cristo from The Egg Carton. This might be the best Monte Cristo ever concocted -- it includes a fried egg, two kinds of bacon, cheddar cheese, two kinds of mustard, and strawberry jam—all strategically placed between two slices of French toast, topped with powdered sugar. Being a food cart, The Egg Carton does not serve beer, but fear not. Portland is one of the beeriest cities on the planet: holding the current world record for most microbreweries,they surpassed two German cities for this title in the early 2000s and never looked back. Grab your breakfast sammy of champions to-go and head just down the road to 10th and Division where you'll find Scout -- a beer cart among food carts! Scout makes some crazy experimental, super fun brews but the one you'll want to wash down your FoPo Cristo is their Intergalactose -- a 7% ABV Cream Ale served on nitro and brewed with lactose and vanilla, it's a boozy substitute for a tall glass of milk.
California: Nope, a Mission burrito does not count as a sandwich. You'll have to travel further south, way past boat-loads of gourmet San Francisco sammies to get Cali's best between two breads: The Farmer at The Daily Dose in Los Angeles. This seasonal monster of a masterpiece The Farmer is a ever-changing mix that usually includes tomato, burrata, roasted squash, ancho chile jam, and never disappoints. Heighten this sandwich experience with a Hazy NE style IPA from the best brewery to make them outside of the Northeast - Monkish. Choose any Monkish IPA you can get your hands on: they're all exceptional, and grab the max amount they'll allow cuz Monkish are some of the best trade-bait in the country.
Colorado: There's no way we could make a Tavour best of sandwiches list and bypass the best sando in the Rockies named after a beer style. The Saison from Denver's City O' City is so good they put it on their menu in two different places. Packed with a juicy grilled tomato, fresno pepper jam and baby swiss, topped with arugula, dijon-mayo and fried egg or scrambled tofu on a saison roll it's one of the best vegetarian lunch options in not only the Mile High city but the entire state. Pairing this Saison sandwich with a Saison Ale is a must, so go with Mountain country Saison experts 14er Brewing's Rocky MTN Saison. This is jalepeno cilantro lime funk-house one of the most unique and flavorful Saisons I've ever tasted.
Arizona: This choice was much easier than a lot of the other states. The best sandwich in the Grand Canyon state definitely comes from Zookz. For a real taste of Arizona fair try their No. 25; it comes with thinly sliced ham, fresh tomatoes and avocados, seasoned black beans, shredded cheddar cheese, and Zookz's own chipotle Sauce. A perfect match for this spicy Southwest sandillo is dark, sweet, and not too heavy. At only 5% ABV Huss Brewing's The Husstler is a Sweet/Milk Stout just right for us adults that miss having a tall glass of chocolate milk with our lunches.
New Mexico: Just so happens to be the only Tavour state that I've never eaten a sandwich in. Post recommendations in the comments please! Maybe we can grab A Slice of Hefen from La Cumbre and sandwich hunt together sometime?
Nevada: I bet for some people the best sandwich in Nevada is a winner-winner chicken dinner with bread. But the real jackpot Samo is Las Vegas' Goodwich. Get their Pig o' the Week, doesn't matter what it is, this ever changing pork-opia never disappoints. What goes better with a hearty Sandwich than a crisp refreshing Kolsch? How about a crisp refreshing gin & tonic? Or, even better Alibi Ale Works' Gin & Tonic Kolsch.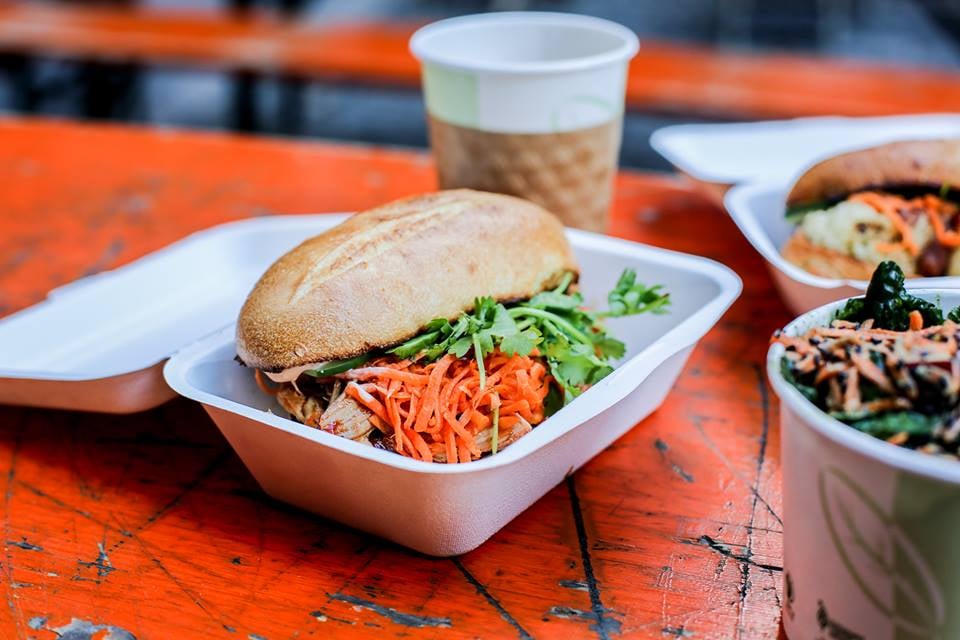 New York: Katz Deli and Shelsky's should definitely compete in some sort of Salami vs Pastrami sam-off but regardless of the outcome, neither holds the title of NYC's best sammy. That honor goes to Num Pang for their Cambodian-style Banh-mi-esque Five-spice glazed pork belly with pickled Asian pear. The bread alone on this thing deserves a medal. Lathered with Spicy Sriracha mayo oh my wow, there's nothing else like it. Hit up Num Pang's Chelsea Market location so you can enjoy a quality craft beer with your lunch from the Filling-Station. Their taps always rotate but never disappoint. Singlecut Beersmiths are somewhat regular in their rotation, so get that if you can. Their TNT 2X Bon Bon is one of the most underrated IPAs in the state.
Florida: Truly hoping the best sandwich in the Sunshine state is still up and running after all the hurricanes that they've been hit with recently. As a strong advocate of localvore eating, when in Florida you gotta get an Alligator sandwich. The best is from a little joint called Gator Grill on the southernmost tip of the peninsula. Yum, tastes like chicken, ultra tender, super fatty, buttery, chicken of the river. For the full Florida experience, pair your gator with a Cubano-Style Espresso Brown Ale from Cigar City.
Connecticut: Conn's best comes from a joint that you can totally tell just from their name that they make killer sandwiches. Everything Maple Giant Grinder makes is a grinder-lover's dream. Best of this menu is the Meatball, and it comes dressed with marinara sauce, spicy peppers, and ample amounts of mozzarella Quench your thirsts with local microbrewery phenoms Firefly Hollow's Cone Flakes IIPA. This hop-bomb is a big reason why this tiny brewery is a name recognized around the U.S..
D.C.: When I think of D.C., I think Ethiopian food… hrmph, if only Ethiopians made sandwiches out of injera… a guy can dream can't he? When in D.C. it's Ethiopian for dinner, but for lunch it's the Green Chili Chicken sandwich from Meats & Foods. It comes kicked up with chilies and mango freakin' chutney along with your favorite customizable toppings. You know what, if you're in D.C. take a cheat-day from beer every once-in-a-while and swing by Ted's Bulletin for a boozy milkshake. The Bananas Foster with banana rum is life changing. If you hear the words boozy milkshake and are still craving a brewski, D.C. Brau's Brau Pils complements this spicy sandwich nicely.
New Hampshire: The best thing about the sandwich shops in New Hampshire is that most of them look like little 1 bedroom houses. NH's best comes from The Purple Tomato in Lincoln. The must try here is the B.L.T.. Doesn't sound that special I know, but ask around or read the reviews -- their New Hampshire bacon is in a league of its own. You can Smuttynose if you want to, but with a sandwich I recommend the Suncook Lager from Oddball Brewing. It's crisp and refreshing, and you won't find it anywhere outside of New Hampshire.
Massachusetts: The first time I ever tried a lobster roll was also the first time I ever wrote a negative Yelp review. All I remember was paying $25 for a sandwich (way more than I had ever paid for any sandwich before in my life) and biting into a huge hidden shell that filled my mouth with blood. Eventually I got over my fear of lobster rolls. And thank god I did so I wouldn't live a life without tasting the Hot Butter Lobster Roll from Boston's Neptune Oyster. And please don't leave Mass with trying an IPA from Trillium. In many hopheads' eyes they are a top 5 IPA brewery in the world. I'd recommend Congress Street but I've never had an IPA from Trillium that I'd grade anything lower than an A- so whatever is fresh there will be an amazing choice.
Pennsylvania: Something tells me that if I don't choose a cheese steak some Pennsylvanian Amish folk are gonna hunt me down with pitchforks and torches. The best cheese steak is from Joe's Steaks + Soda Shop. It's been there for decades, changed names but not recipes, and if you don't already know, then Joe's will teach you the wonders of what cheese wiz can do for meat and bread. Follow this food coma with a nice Cold Cock English IPA from 2SP Brewing in Aston. You've probably never heard of them but the headbrewer has won 19 GABF medals from various breweries he's worked with, so trust me when I say the beer is legit there.
Ohio: The Polish in me loves you dearly, for you're the only place I've ever found (not even in Poland) a pierogi sandwich. Melt Bar and Grilled has made this dream I had never even dreamt before a reality. Their Parmageddon consists of: potato & onion pierogi, fresh Napa vodka kraut, sautéed onions, and sharp cheddar between two thick slices of soft white bread. You should probably pair this meal with a shot of Chopin Vodka… and a beer. I'd recommend Jackie O's Funky South Paw. It's a Wild Ale, fermented with pawpaw fruit. Jackie O's is one of the best breweries you can't find anywhere else, and how often do you get to try a beer brewed with pawpaw fruit? P.S. what is pawpaw fruit?
Wisconsin: Italian's seem to rule over Wisconsin's sandwich kingdoms. The migliore (Italian word for best) is Glorioso's Human Torch located in Milwaukee. It's piled high with calabrese, capocollo, provolone, hot pepper spread and hot muffalatta (olive spread). Cool yourself down with O'so Brewing's Convenient Distraction Imperial Porter, it's a nice cup of vanilla iced-coffee...that just happens to tote a boozy 10% ABV.
Nebraska: The Reuben at Crescent Moon Ale House in Omaha gets all the press and it should, it's a next-level Reub, but Nebraska's best sammy is the Cheese Frenchie from The Mixing Bowl. It's just a breaded and fried grilled cheese… Breaded. And Fried. Grilled cheese. I may have just come down with a case of the Homer Simpson's. A great grilled cheese comes with one-of-two options, either a bowl of tomato soup or a Bloody Mary. Try Bootleg Brewers Bloody Ass Blaster -- it's just like a Bloody Mary but in beer-form.
If you agree with these choices, let us know. If you think these choices are trash and our tastebuds should be burned at the stake, let us know. But if you have access to any of these sandwich and beer combinations and haven't yet tried them… get on it, these sandwiches are life.
Written by Dylan Kasprzyk